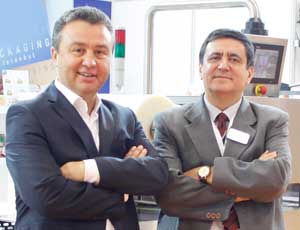 NUTRITION IS ONE OF HUMANITY'S MOST BASIC NEEDS.
Therefore, the nutritional value of our food for centuries to keep from losing their strive for. The main requirement for our dinner while storing them long-term is to protect from deterioration and decay.
Today, as APACK, we providing and developing technology and solutions for food packaging.
As APACK, when we providing and developing technology and solutions for food packaging solutions, taking into consideration keeping food in their natural form completely is a mere target of the processing. For us this is the most important point in terms of consumer perception.
Finally, all these products are consumed with loved ones. Products are not packaged with the correct methods and techniques that threaten our health and well-known fact that the manufacturer has inflicted great harm.
In all efforts of APACK, we try to prepare of food products in the customer's requests, demands and expectations, in linewith the longest possible shelf life and are trying to create at minimum cost. Of course, without losing flavor, without the use of additives, food in its most natural form.
We are using many thousands different types portion trays either standard ones or should be designed according to the needs.
We are using many thousands different types plates and functional sealer film according to the characteristics of foods.
While we are performing all these, we think about the future. As APACK, when we are following technological developments in the world, we are developing new technologies in line with our needs.
First we developed manual operated food packaging machines after solving preservation by using the right ingredients in our food packaging process. Then, we developed very special process to stick container and film while modifying atmosphere in the container. Package paste the protective film on the container and packaging, and in the meantime the qualities we want to set the atmosphere, we have designed a very special way. Afterwards we developed more capable serial production machines.
For years, we are manufacturing our machines with our design and experience and with our manufactured parts. All the machines we produce comply with international standards and certifications. APACK 20 years' experience lies behind its name. We sold our machines to many outstanding companies both in Turkey and in foreign countries and give service support.
We never left alone our client with fate after machine sale.
We are making collaboration with more than 800 scientists and technical staff all over the world.
Our eating habits in the current period will vary according to the traditions and society. Especially those living in big cities after returning home from work and doesn't have time to prepare meals. Although we have taken the concept of ready meals from the west, according to their taste of Turkish cuisine are trying for decades to develop. Traditional culinary pleasures we aim to move the whole world. We are developing ready made meals projects in collaboration with many companies.
We are caryying all of our knowledge and abilities to Europe, Far East, Middle East, Turkic Republics and the Balkans.
WE HAVE SOLUTIONS THAT ADDED VALUE TO YOUR PRODUCT.